ANTIGONUS, Son of John Hyrcanus:
Born about 135 B.C., died 103. He was Hyrcanus' second son, and, though young, proved an able soldier during his father's lifetime. In conjunction with his brother Aristobulus, he besieged and captured Samaria about 109 (Soṭah, 33a; Josephus, "Ant." xiii. 10, § 2), beating off successfully the Syrian Antiochus of Cyzicus and the Egyptian Callimander, general of Ptolemy Lathyrus, both of whom attempted to relieve the city. When Aristobulus became king about 105, though he imprisoned his other brothers, he not only left Antigonus at liberty, in appreciation of his merits, but even treated him as a sort of associate in the government. This favor shown by Aristobulus awakened the jealousy of a court cabal, at the head of which Queen Alexandra (Salome) is said to have stood, and which succeeded finally in having Antigonus slain at the king's command. The details of his death as given by Josephus are probably legendary, but historically certain is the fact that he owed his death to a court intrigue. Josephus' account runs that Aristobulus, who loved his brother warmly, was made suspicious of him by calumnious representations on the part of the queen and other enemies, who maintained that he was aiming at the crown. The king issued commands to his body-guard to cut Antigonus down should he ever appear before him in armor, and at the same time sent word to his brother to come to him immediately, but without armor. Antigonus' enemies prevailed on the messenger to inform him that the king had heard of his new armor and weapons, and desired to see him with them. Antigonus readily complied, and upon his entry to the royal castle, at the Feast of Tabernacles, about 104, was slain by the guard. An avenging Nemesis seemed, however, to exact atonement for his death, for when a servant spilt some blood from the veins of the king upon the very spot where Antigonus had been slain, the king saw the finger of God in the coincidence, and grieved himself to death over his brother's unfortunate fate. See also Judas the Essene.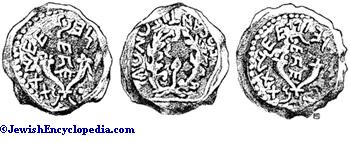 Copper Coins of King Antigonus.
(After Madden, "Coins of the Jews.")
Bibliography:
Josephus, Ant. xiii. 10, §§ 2, 3;
idem, B. J. i. 3;
see also the histories of Ewald, Grätz, and Schürer.
L.
G.