FRIEDLAND:
A family which came presumably from Friedland in the German duchy of Mecklenburg-Strelitz (or perhaps from the Bohemian town of that name), and settled in Prague. Nathan Friedland, "head of the ḳahal and of the country of Bohemia," was the earliest known member of the Prague branch of the family, of which the following is the genealogy: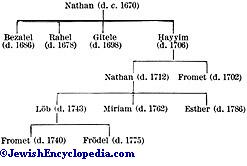 All these belong to Prague. Meïr of Zülz had a son, Mordecai (d. 1742), and a daughter, Rebecca, who married the dayyan Lipman Ḳadish (d. 1736); both lived in Prague. Israel Issar, son of Phinehas of Zülz, was a prominent man in Frankfort-on-the-Oder in 1708, as is narrated in the last note of Eliezer b. Joseph's "Mishnat de-Rabbi Eliezer," which was printed there in that year.
There is also a Friedland family of Russia, whose geneaology is as follows: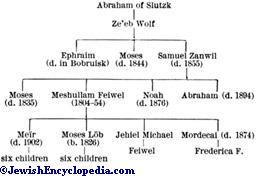 It is supposed that the founders of this family, and Meïr and Phinehas Friedland of Zülz, Silesia (end of seventeenth and first half of eighteenth century), were related to the Bohemian branch of the Friedlands. The most prominent members of the Russian branch were the philanthropist Meïr and his brother Moses Aryeh Löb Friedland; the earliest known member was Abraham of Slutzk (government of Minsk). Meshullam Feiwel Friedland settled at Dwinsk in 1846, but his sons removed to St. Petersburg.
Bibliography:
Eisenstadt-Wiener, Da'at Ḳedoshim, pp. 233-245, St. Petersburg, 1897-98.
J.
P.
Wi.