LAGARDE, PAUL ANTON DE:
German Orientalist; born in Berlin Nov. 2, 1827; died in Göttingen Dec. 22, 1891. His father was Wilhelm Bötticher; and his earlier writings (1847-52) were published under the name "P. A. Bötticher," the name De Lagarde, which was in his mother's family, being legally assumed by him in 1854, when he was adopted by his maternal great-aunt, Ernestine de Lagarde.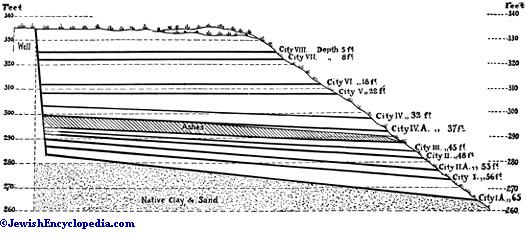 Sectional View of Excavations at Tell al-ḥasi (Lachish), Showing Seven Strata of Cities.
Lagarde's early education was obtained in the Friedrich Wilhelms Gymnasium, in which his father was a teacher. He studied theology and Oriental languages at the universities of Berlin, where the poet-scholar Friedrich Rückert was his teacher in Arabic and Persian, and Halle, habilitating at the latter in 1851. The next two years were spent chiefly among the manuscripts in the libraries of Paris and London. Lagarde's hopes of securing on his return a position in a university faculty were disappointed; and from 1854 to 1866 he taught in Berlin schools. In 1869 he became professor of Oriental languages at Göttingen, succeeding Heinrich Ewald.
Lagarde's earliest publications were in the field of comparative philology; and of his maturer worksthat on noun-formation in Aramaic, Arabic, and Hebrew (1889) is an important contribution to the subject. He edited many texts, chiefly Biblical and ecclesiastical, in Syriac, Aramaic, Arabic, Hebrew, and Coptic, as well as in Greek and Latin. What he regarded as the great work of his life, to which the principal part of the foregoing editions was subsidiary, was the critical reconstruction of the text of the Septuagint by a methodical regress from the recensions current in the fourth century. His "Librorum Veteris Testamenti Canonicorum Pars Prior Graece," 1883 (Genesis-Esther in the Syrian recension of Lucian), was one step in this plan. His minor writings, collected from time to time ("Symmicta," "Semitica," "Orientalia," "Mittheilungen"), cover an extraordinary range of erudition and controversy. He wrote much and vigorously also on contemporary questions in politics, religion, and education; his "Deutsche Schriften" (1878-81; last ed. 1891) is a collection of such pieces.
Mention may be made of those writings of Lagarde which are of especial Jewish interest. His "Prophetae Chaldaice" (Leipsic, 1872) is a serviceable edition of portions of the Reuchlin codex of the Targum, but without the vocalization; and his "Hagiographa Chaldaice" (1873), excepting Chronicles, which he edited from an Erfurt MS., is a reprint from the Bomberg Bible of 1518. Lagarde had a sense of the importance of a study of Talmudic literature because of its bearings on the history of the Bible text. He was not unacquainted with post-Biblical Hebrew. He edited, for the use of his students and not critically, the "Maḳamat" of Judah al-Ḥarizi (Göttingen, 1883), and gave an account of the Hebrew manuscripts in Erfurt ("Symmicta," i. 130; see Steinschneider, "Hebr. Bibl." xix. 28), and of a part of a Talmud manuscript in the Göttingen Library ("Semitica," i. 69), besides explanations of Aramaic words ("Erklärung Chaldäischer Wörter," ib. i. 33 et seq.). But both in his scientific and in his political writings he was a virulent anti-Semite, his theory of the corroding influence of the Jews being based upon his peculiar ideals of a German state. This is seen in his "Juden und Indogermanen: Eine Studie nach dem Leben" ("Mittheilungen," ii. 262), in his "Purim: Ein Beitrag zur Gesch. der Religion" (Göttingen, 1887), and in his criticism of Berliner's edition of the Targum Onḳelos (ib. ii. 163 et seq.). He came into direct conflict with Jewish scholarship by the dissertation of his pupil Ludwig Techen, "Zwei Göttinger Machzorhandschriften" (1884), which contained an attack upon the merits of Leopold Zunz's work. This was answered, among others, by A. Berliner ("Prof. P. de Lagarde, nach Seiner Natur Gezeichnet," Berlin, 1887), D. Kaufmann ("Paul de Lagarde's Jüdische Gelehrsamkeit," ib.), and by B. Ziemlich ("Einer der Nicht Liturgiker Sein Will," ib.). Lagarde replied in his "Lipman Zunz und Seine Verehrer" ("Mittheilungen," ii. 108 et seq.), and in his "Juden und Indogermanen," cited above. A responsum on the Talmud by Lagarde will be found in "Mittheilungen," iii. 3 et seq. The latest two accounts of Lagarde are by G. F. Moore in "The University Quarterly" (New York), vii. 166 et seq., and by E. Nestle in Herzog-Hauck, "Realencyc." xi. 218 (also separately with additions).
Bibliography:
P. A. de Lagarde, Ueber Einige Familien des Namens Bötticher, 1867;
Anna de Lagarde, Paul de Lagarde: Erinnerungen aus Seinem Leben, 1894 (both privately printed).
A classified bibliography of Lagarde's writings, by R. J. H. Gottheil, will be found in the Journal of the American Oriental Society, xv. 211-229 (privately reprinted with addenda).
G.
F.
M.
G.