MAYBAUM, SIEGMUND:
Rabbi in Berlin; born at Miskolcz, Hungary, April 29, 1844. He received his education at the yeshibot of Eisenstadt and Presburg, at the lyceum in the latter city, and at the university and the theological seminary of Breslau (Ph.D., Halle, 1869). From 1870 to 1873 he was rabbi at Alsó-Kubin, Hungary; from 1873 to 1881, at Saaz, Bohemia; and since 1881 he has held a similar position in Berlin, where he is also docent at the Lehranstalt für die Wissenschaft des Judentums. As founder of the rabbinical society of Germany, whose president he at present (1904) is, he convened the first congress of German rabbis at Berlin in 1884. He is one of the most eloquent rabbis of Germany. In 1903 he received the title of professor.
Maybaum is the author of the following works: "Die Anthropomorphismen und Anthropopathieen bei Onkelos und den Späteren Targumim," Breslau, 1870; "Die Entwickelung des Altisraelitischen Priestertums," ib. 1880; "Die Entwickelung des Israelitischen Prophetentums," Berlin, 1883; "Predigten," ib. 1892-94; "Jüdische Homiletik," ib. 1894; "Methodik des Jüd. Religionsunterrichtes," Breslau, 1895; "Die Anfänge der Jüd. Predigt," Berlin, 1901.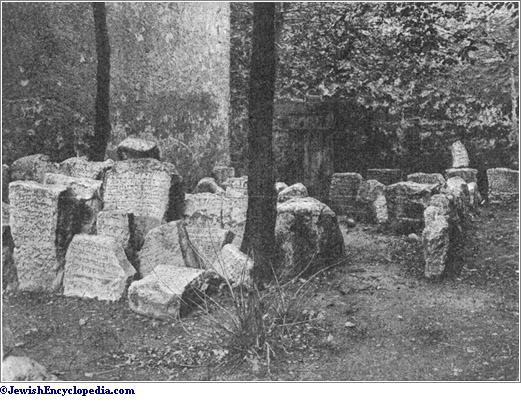 Anceint Remains of the Jewish Cemetery at Mayence.
(From a photograph.)
S.
F.
T.
H.