COHN, TOBIAS:
German rabbi and writer; born at Hammerstein, West Prussia, Feb. 2, 1826. After graduating from the normal school, he conducted the Jewish elementary school of his native city until 1846. He then continued his studies at Berlin, where he received his doctor's degree in 1857. During this time he was living in the house of Sarah Levy (née Itzig), then the gathering-place for the Jewish and Christian celebrities of Berlin. From 1857 to 1896 he officiated as preacher and rabbi of the community of Potsdam. With his wife, the daughter of Ludwig Philippson, he then took up his residence in Berlin.
Cohn is an honorary member of the Literarische Gescllschaft, a society composed of the intellectual leaders of Potsdam, and has been decorated with the Order of the Red Eagle. His larger works include: "Der Talmud" (1866); "Die-Mosesgruppe von Rauch"; "Die Humanitätsperiode"; "Die Aufklärungsperiode"; "Die Araberim Chalifat"; "Israels Gemeinschaftsleben mit den Vorchristlichen Völkern" (1893). He also contributed many scientific essays to the "Allgemeine Zeitung des Judenthums," Geiger's "Jüdische Zeitschrift für Wissenschaft und Leben" (iv.), "Jahrbuch für die Geschichte der Juden und des Judenthums" (iv.), "Aus Alten Zeiten und Landen," "Im Deutschen Reich," etc.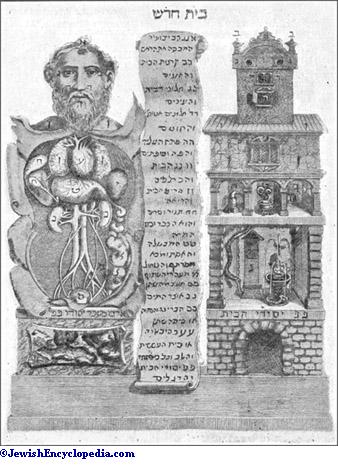 The House of the Body. An allegorical design comparing the organs of the body to the divisions of a house.
(From Tobias Cohn, "Ma'aseh Tobiyyah," 1707.)
S.
P.
R.