SALAMAN, CHARLES MALCOLM:
English journalist and dramatist; born in London Sept. 6, 1855; son of Charles Kensington Salaman, the composer. He is the author of "Ivan's Love-Quest" and other poems (London, 1879), and he has written the verses to many of his father's best-known songs, and also the words to compositions by Sir G. A. Macfarren, G. A. Osborne, and others.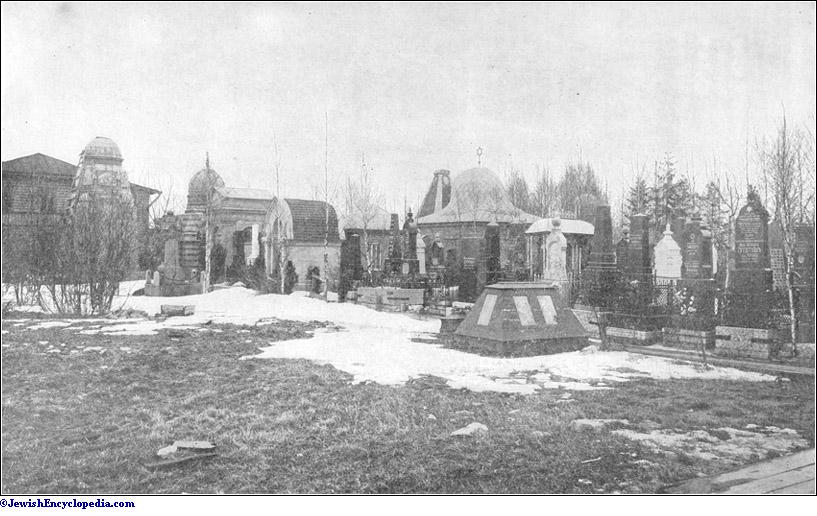 Modern Jewish Cemetery at Saint Petersburg, Russia.
(From a photograph.)
In the dramatic field and as a librettist, Salaman has produced "Deceivers Ever," a farcical comedy (Strand Theatre, 1883); "Boycotted," a one-act comedietta, with music by Eugene Barnett; "Dimity's Dilemma," farce (Gaiety Theatre); "Both Sides of the Question," comedietta; and "A Modern Eve" (Haymarket Theatre). Salaman is known also as a critic of the drama and of painting. He is editor of the published plays of A. W. Pinero, and author of the popular book "Woman—Through a Man's Eye-glass" (1892).
Bibliography:
Brown and Stratton, Biog. Dict. London, n.d.;
Jewish Year Book, 5665 (= 1904-5).
J.
G.
L.